Smith, Young NSW
Seeking information about Raymond Wilfred Smith born 11 Nov 1907 Young NSW. His death place is unknown and family has not been able to source any other information regarding his whereabouts. He was last heard of in 1945 at 112 Wilson St, West Brunswick, Victoria, the residence of Clyde Oliver and Olwyn Grace McCartin.
Parents: Henry Smith born 25 Dec 1886 Young NSW and Lauretta Jane Atkins born 4 Dec 1886 Cowra NSW. Henry (aka Harry) and Lauretta (aka Lottie) died Kogarah, Sydney 1973 and 1967 respectively.
Wife: Dorothy May McGrath (1918-1979) married 7 Sep 1937 Young NSW. She was born 1918 West Wyalong NSW. Her parents were John McGrath and Sarah Jane Shoard.
Sister: Daphne May Smith born 4 Mar 1910 Young NSW, died 3 Sep 1998 Randwick NSW. She was married 1 Jun 1946 Randwick NSW to John William Walker who was born Laurence Allen Gibson 1914 Murrwillumbah NSW. His parents were Andrew Allen Gibson and Olive May Wilkinson.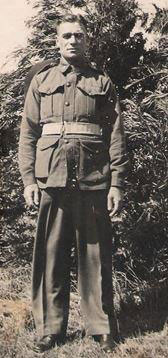 WW2 Record: Service Number V503577, 11th Unit Australian Personnel Staging Camp. Enlisted 9 March 1942, Brunswick Victoria. Discharged 1945.
Contact Lisa:
---