Ancestors:
John Mather and Margaret Hamilton
John Mather
John is currently being researched. At his son, Adam's baptism in 1823 at Kilmarnock, Ayrshire, Scotland his profession is stated as Miller.
Adam Mather
Adam's family fractured in Scotland for reasons yet unknown and may have been the second family member to emigrate to Australia. Shortly before leaving Scotland, he married Charlotte Cameron in 1851. She died not long after arrival:

'Sat 14th Feb 1852
Death
At the residence of Mr. John Mather, Armidale, New England,
on Monday, 2nd February, after a severe illness,
Charlotte Cameron, aged 33 years,
the beloved wife of Mr. Adam Mather
(late from Glasgow, Scotland), much regretted.'
Adam's second marriage was to Elizabeth Keppie in 1854 at Paterson NSW where they raised their family of 10.
Adam followed in his father's profession as a Miller and advertised in the local newspaper of 1853:

'Superior Fine and Second Flour for Sale, always on hand, at Maitland Prices.
Cash given for fine samples of Wheat at the Mill.'
Adam was associated with
Black Creek Steam Flour Mills
and later owned
Paterson Steam Flour Mills.
In 1853, his father in law, Peter Keppie joined him in business:
'Wed 2 March 1853
Paterson Steam Flour Mills
Important to Farmers and others
ADAM MATHER
...begs to inform that he has admitted Mr. Peter Keppie, of the Paterson, as Partner;
and the business of the above mill will be carried on under the firm of Mather and Keppie.'
Adam was to receive a fairly substantial inheritance of 5000pounds but unfortunately died suddenly in 1870 at Paterson NSW. At the time of his death he was connected with the flour mills at Morpeth NSW.
Elizabeth Keppie
Peter and Elizabeth Keppie sailed from Scotland in October 1839 aboard the 'Portland' with their two children. Elizabeth was 4yrs old and James an infant. The eldest child of the family, Margaret had died in Scotland earlier that year.
Elizabeth was left to raise her large family after Adam's sudden death in 1870. Shortly after his death she moved to Singleton NSW and carried on a business there for some years with the assistance and advice of her two brothers, William and John. She married Henry Pinchin in 1877 and they established a boot and shoe business as well as a cordial factory in Singleton.
Alexander Stewart Mather
Elizabeth and Adam Mather's youngest son, Alexander, took over the cordial factory at Singleton in 1902. He was also a radio broadcaster on 2HR Singleton which opened on 6 September 1937.
Alex Mather and Sons Cordial Factory was a successful business which began when Singleton was struggling as a township and the Municipal Council was only a decade old. Alex built the business into one that was known far and wide for it's products. After Alex's death in 1938, his eldest son, James, took over the management of the business. His brother, Alexander Mather Jnr, was a partner. In 1904 production was limited to 50 dozen bottles of cordial an hour, but with the introduction of automatic machinery in 1961, production increased to 240 dozen bottles an hour. Four generations of the Mather family operated the business until it's sale in May 1976. The cordial industry was of great benefit to Singleton.
Adam Mather Jnr
Adam was the third child of Adam and Elizabeth Mather born 1858 at Paterson NSW and died 1917 at Singleton NSW. Adam was a batsman for the NSW Cricket Team. His brother, Alexander, made glass cordial bottles in his honour which feature a cricket bat. They are on display at the Singleton Museum.
Adam was the licencee of Mathers Club House Hotel at Singleton from 1898 until his death. It was a meeting place for cricket buffs and also provided good times for the community.
John and Fanny Mather
Adam and Elizabeth Mather's granddaughter, Lilian Evelyn Carpenter, died tragicallly in 1913 at Sydney NSW leaving behind six young children. Lilian's husband was Ernest Robson Carpenter.
After Lilian's death the Mather family contributed to the care of the children. Their son, Colin Thomas Carpenter, lived with Fanny Mather at Tenterfield NSW.
Looking for descendants of John Adam Mather and Fanny Walters/Waters who married in 1882 at West Maitland NSW. John, son of Adam and Elizabeth Mather was born in 1856 at Paterson NSW and died in 1912 at Glen Innes NSW. John and Fanny's children were Elizabeth, John, Laurel, Adam and Albert.
Tinkler Family Connections
Alfreda (Freda), daughter of Adam and Elizabeth Mather was born in 1868 at Morpeth NSW. She married Alfred Waterford Tinkler in 1897 at Singleton NSW. Alfred was a son of Usher Tinkler and Ann McDonald. Alfreda and Alfred both died at Cessnock NSW.
Elizabeth Salome Keppie, daughter of William Keppie and Salome Elizabeth Garrard, married William John Tinkler in 1892 at Paterson NSW. William was also a son of Usher Tinkler and Ann McDonald.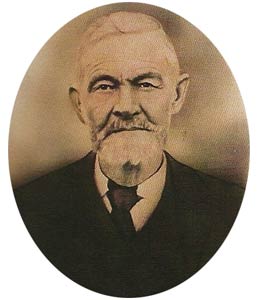 William Keppie and Salome Garrard
Generation 1:
John Mather
Wife: Margaret Hamilton
Generation 2:
Adam Mather
b1822 Kilmarnock Ayr Scotland
d1870 Paterson NSW
1st Marriage: Charlotte Cameron
1851 Scotland
b1819 Glasgow Scotland
d1852 Armidale NSW

2nd Marriage: Elizabeth Keppie
1854 Paterson NSW
b1836 Paisley Scotland
d1907 Singleton NSW

Elizabeth 2nd Marriage: Henry Pinchin
1877 Patricks Plains (Singleton) NSW
Generation 3:
Elizabeth Mather
b1857 Paterson NSW
d1904 Lewisham Sydney NSW
Husband: Colin Cooper
b1857 Morpeth West Maitland NSW
d1926 Summerhill Sydney NSW
Generation 4:
Lilian Eveline Cooper
b1880 Newcastle NSW
d1913 Paddington Sydney NSW
Husband: Ernest Robson Carpenter
b1875 Geelong Victoria Australia
d1954 Ryde Sydney NSW
Generation 5:
Colin Thomas Carpenter
b1906 Ashfield Sydney NSW
d1988 Elanora Heights Sydney NSW
Wife: Isabel Wilson
b1911 Ferryhill Durham United Kingdom
d1990 Elanora Heights Sydney NSW
Generation 6:
William Henry Carpenter
b1935 Sydney NSW
d1976 Carss Park Sydney NSW
Wife: Smith
b1936 Young NSW
Smith 2nd Marriage: Wyatt

Generation 7:
Lisa Anne Carpenter
b1958 Marrickville Sydney NSW
1st Marriage: Sokolowskyj aka Ischenko
2nd Marriage: Timothy Paul Koch
b1961 Maitland, South Australia
For a complete list of family names contact:
---