Arthur Herbert Atkins
1892-1947
Connected to Family History of: Bath | Jones
Compiled by Lisa Anne Carpenter
Great granddaughter of Lauretta Jane Atkins (Smith), also known as Lottie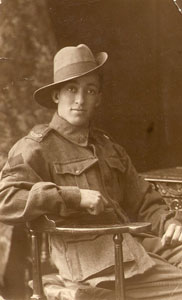 'To Lottie from her loving brother Arthur'
28 July 1918, France
Arthur sent this photograph to his half sister, Lauretta Jane Atkins while serving in World War 1.

Arthur and Lauretta's mother: Catherine Teresa Adelaide Jones
Arthur's father: Edward Bath
Lauretta's father: John Joseph Atkins
Arthur Herbert Atkins, Regimental No.456
Born: 14 July 1892 Harden, New South Wales, Australia
Enlisted: 22nd June 1916 Royal Agricultural Show Ground, Recruiting Depot, Sydney
Returned: 16 November 1919
Occupation: Coach Painter, served 5 year apprenticeship with D. Normoyle, Young NSW Australia
Wife: Margaret residing at Redfern, Sydney.
All Australian marriage records have been checked and there was no formal marriage. Margaret informed Army Headquarters of her change of address which is the last known information about her.

Alick Howard Atkins (alias Hill) 1920-1959
While on active service Arthur married Elsie Mary Mason (1893-1989) 25 November 1918, Nottinghamshire UK. Arthur did not return to Australia with Elsie and their son, Alick Howard Atkins who was born 1920, Nottinghamshire.
Elsie's parents were Zarah Mason and Mehitabel Rossell (also known as Hetty) who married 1879 at Barrow on Soar, near Shepshed, UK. Elsie and her siblings Ernest, Albert, Alfred, Ambrose, Harold, Alic Howard, Ruth Eversea Beatrice and Joseph Zarah were all born at Shepshed UK.
Elsie migrated to Canada with Rowland Gordon Hill 24 June 1921 and married 15 December 1921, Portage La Prairie, Manitoba, Canada. Alick became known by his stepfather's surname of Hill and wasn't aware of that Arthur was his biological father until entering the Canadian Army when his birth certificate was required.
Arthur Herbert Atkins
Arthur's mother, Catherine Teresa Adelaide Jones (1848-1921) had previously been married to John Francis Martin (1837-1878). After his death in 1878, Catherine married John Joseph Atkins. Catherine registered Arthur's birth and recorded his father as John Joseph Atkins, which was eventually proven to be incorrect. Arthur was illegitimate and does not appear on his mother's or John Joseph Atkins's death certificates as one of their children..
Children of Catherine Teresa Adelaide Jones and John Francis Martin:
James Joseph 1867-1946, John Francis 1869-?, William Henry 1870-1938, Michael 1871-1938, Thomas Joseph 1873-1928, Charles Andrew 1874-1948 and Philip Christopher 1875-1923.

Children of Catherine Teresa Adelaide Jones (widow Martin) and John Joseph Atkins:
Daniel Burnett 1880-1964, Mary Josephine 1882-1918, Joseph Patrick 1884-1971, Catherine Teresa May 1885-1939 and Lauretta Jane 1886-1967.
Catherine died 1921 Cowra NSW, her obituary stating that her second husband, John Joseph Atkins was deceased. John in fact died 1925 Ashfield, Sydney. He was also recorded as deceased at his youngest daughter, Lauretta Jane Atkins's marriage to Henry Smith 1908 Cowra NSW. It was eventually discovered that John left Catherine when he knew Arthur was not his son. An early family legal document reveals that Catherine (aka Kitty) had one child since her husband left her. I believe he left her when he found she was pregnant.
Arthur recorded his father on all of his documentation as Edward Atkins, a Carpenter by trade, deceased by 1918. He also recorded his mother incorrectly as Catherine Bath at his marriage 1933 Leichhardt, Sydney to Annie Francess (nee Jones) Hofflick. This is the first of a number of times he stated he was born in Mexico. Edward and Catherine's surnames were swapped endeavouring to hide Arthur's illegitimacy. Arthur and Annie had one child, Marcia Mary Atkins, who now resides in America.
Arthur's father was Edward Bath (1843-1907), a Carpenter and Miner who was born in Picton NSW, the son of John Bath (1811-1881) and Irish convict Mary Naughtin (1821-?). On 28th November 1864 Edward was accused of the attempted murder of Chinese miner, Ah Lock, at Young NSW. He was described as a half-caste and also as having Negro complexion with black hair, dark brown eyes and very dark complexion. This description is consistent with Edward's father, John Bath's African origins who was born 1811 at St. Helena Island in the South Atlantic Ocean. St. Helena Baptismal Records reveal John was born 19 Sept 1811 and baptised 2 May 1813, he was illegitimate, and a slave, the property of Maria Mills. John died 1881, Cowra NSW.
Arthur took up the initial call to enlist in World War 1 while living at Kurri Kurri and also recorded his return address as the local post office there. This is where Edward Bath's children to his previous marriage to Winifred McNamara (1860-1886) were living.
Arthur was employed as a painter and storeman by the Maritime Services Board at the Captain Cook Graving Dock, Garden Island, Sydney. He was appointed as representative of the Australian Worker's Union in September 1944. By 1946 he was residing at Woronora River in a rented cottage with his wife Annie, daughter Marcia and stepson Alfred.
Shortly before his death Arthur was held at Long Bay Gaol Infirmary awaiting trial and legal aid support on a charge of fraudulent misappropriation of Union funds. On 13 December 1946 judgment was made against him and he was placed on a three year good behaviour bond. By this time he was seriously ill and residing at the home of John and Jean Chester at Manly, Sydney. Jean, a nursing sister owned 'Earlsdon Private Hospital and Convalescent Home' in the same street. Arthur died penniless 18 January 1947 at Manly District Hospital and is buried in the Anglican section of Rookwood Cemetery, Sydney.
Looking for Marcia Mary Atkins, daughter of Arthur Herbert Atkins and Annie Francess Jones
Marcia married:
Milton Maurice Dixon (1929-2001)
1950 Leichardt Sydney NSW Australia, daughter Linda Christine
Ian Peter (aka Peter) McLaren (1929-2003)
1953 Randwick Sydney NSW Australia, three children
Harry Isaac Jones (1910-1988)
1971 Virginia USA, no children
John Francis Eastman c1973 USA.
Born 1941 Vermont USA son of Merrill Homer Eastman (1916-2013) and Priscilla Forville Duell (1916-1967) Sisters: Starrlee Ann (1938-2010) married Maurice Paulin/Poulin, Sharon Margaret (1939-1969), Sandra Louise married Kenneth Maurice Ritenour.
Contact Lisa:
---