Ancestor:
John Cooper

John Cooper was born in 1770 at Coleorton Leicester United Kingdom. He married Elizabeth (surname unknown) in 1795 at Syston Leicestersire United Kingdom. Their son, Thomas Johnstone Cooper migrated to New South Wales, Australia with his wife, Rosetta and family aboard the "Orontes" departing from London 23 Nov 1837, Gravesend 26 Nov 1837, and from The Downs 3 Dec 1837. Master of the ship was Joseph Short.
Thomas Johnstone Cooper



Arriving on "Orontes" on 18 May 1838 were Thomas, Rosetta and family. Their daughter, Caroline, was born on the voyage.

"The Alphabetical Return of Emigrants Embarked Onboard the "Orontes" in London Docks on the 18 and 21 November 1837" shows the Cooper family as numbers 34 to 43 and all the childrens' names are clearly stated.
Notes from shipping list stated: "Butcher from Leicestershire brought up by his father to the farming business understands the management of stock and could understand......be made generally assigned in Farm work - most satisfactory appearance of Good Character". A Native of Syston, Leceistershire(sic), son of John Cooper, Hosier, native of Loughborough, calling Butcher and Farmer, Age on Embarkation 37 years last February. In Good Health, a Protestant, Reads and Writes". There is a slight discrepency with Thomas' age; all other details are correct.
Thomas Johnstone Cooper was born February 1796 at Syston Leicestershire London United Kingdom. His wife, Rosetta Lockwood was born in 1794 at Somerstown London United Kingdom. They were married on 23 May 1819 at St Andrew's Church, Holborn, London.
Thomas, Rosetta and their family settled in Maitland NSW Australia. Thomas had a successful butchery business in West Maitland which is now the site of TAB building. His son, Thomas Lockwood Cooper joined his father in the business.
Thomas Lockwood Cooper
Thomas was born 20 Jul 1818 Shoreditch London United Kingdom. His first wife was Sarah Sophia Tomkinson who was born 24 Jan 1826 at Grahamstown, South Africa. Her parents were John Tomkinson, a Farrier in the Cape Cavalry, and Mary Ann Harris. Thomas and Sarah's marriage is unregistered, as is her death 18 Aug 1855, Maitland NSW Australia. Sarah is recorded as Sarah Sophia Hazell, her stepfather being William Hazell. Thomas married Agnes Dickson on 31 December 1855 at Collingwood Melbourne Victoria. Agnes was the daughter of William Dickson and Robina Haddon. She was born in 1836 at Huddersfield Yorkshire United Kingdom.
Thomas and Agnes had 13 children. Their son, Colin, married Elizabeth Mather whose grandfather was William Keppie, the renowned pioneer of Paterson NSW Australia.
Both Cooper and Mather families married into the Tinkler family who are well known in the Hunter Valley where three generations of their ancestor, Usher Tinkler, have been vitally involved in the wine industry.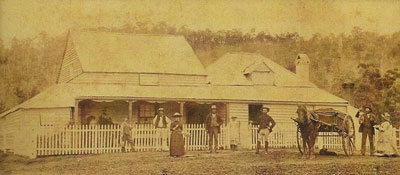 Plough Inn, Paterson NSW Australia

For a complete list of family names contact:
---