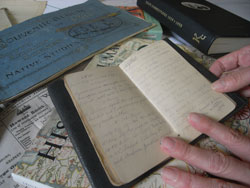 IDescend provides assistance for people researching their families and the opportunity to publish family histories. I have been researching for over 30 years and have gained unique experience resolving the obscure and sometimes incorrect information recorded by my family.
Anyone could document just about anything about themselves and their families in the past because no one had any way of checking, particularly in small country towns. It is much easier to confirm information today on the internet and connect with family who we have never met and those who are just as interested in discovering their family trees. Swapping notes, sharing information, confirming facts and correcting inaccuracies is part of the process of asking 'Where do I really come from?'
My long, difficult, and frustrating journey to discovering those who have gone before me resulted in major challenges! The absence of a written family history to draw upon, lack of accurate oral family information, creative aliases and informants on certificates who covered up their misadventures very cleverly. My journey has been very rewarding eventually leading me to discover illusive relatives who had removed themselves from their families and some I was able to reunite.
We shall not cease from exploration,
and the end of all our exploring will be to arrive where we started
and know the place for the first time.
T. S. Eliot
For more information Contact Lisa
---